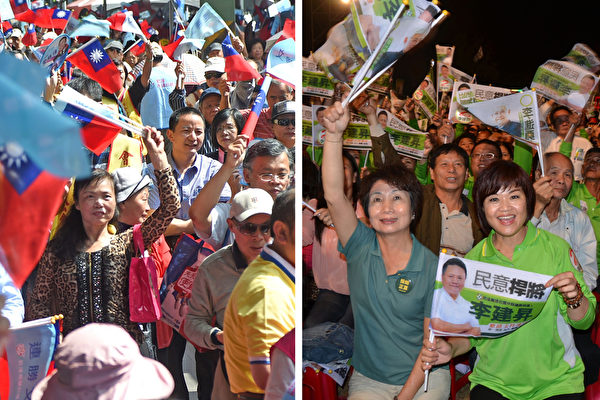 Novermber 24, 2018 was

Election Day in Taiwan, not "national" but local except for 10 non-binding referendums mostly put forth by KMT or Christian groups. The most important referendum, independence for Taiwan, is taboo; everyone knows what that secret ballot result would be. The other referendums, mostly pro or con sex education (that includes gay inclusion) are redundant because the legislature has already passed the gay equal rights law. The one referendum I would vote for is changing the official international sports competitors name back to "Taiwan" from "Chinese Taipei", a move that would irk China but is the closest people here can get to supporting autonomy.
Mayor Ko in Taipei, running for his second term, was compromised by the DPP this time; they are running their own candidate instead of supporting his 'no-party' campaign. Mayor Ko is the closest thing Taiwan has to making compromise with China for the benefit of the Taiwanese people who lack a country and remain a quasi-colony of the United States. Tsai Ying-Wen is in the U.S. camp and will not do the right thing and reach out to China for the best deal in reunification. An interesting election, in two years, would be for president if Tsai Ying-Wen is dropped in favor of the unabashedly independent former mayor of Tainan, Lai Ching-De, who is now in the president's cabinet. If Mayor Ko wins today he would probably run for President in two years. It could set up a show-down over rational reunification (not pandering under KMT leadership, as Ma- Ying-Jyou did) with Ko Wen-Je and a true independence advocate, Lai Ching-De who could run as an Independence Party candidate if the DPP's Tsai Ying-Wen refuses to give in from her laissez-faire U.S. control of Taiwan's future.
Locally, standing DPP mayor Lin Jia-Lung of Taichung, Taiwan's second largest city, and Tsen Chi-Mai from Kaohsiung, Taiwan's third largest, are running against corrupt KMT candidates. Every city has mayoral candidates that, generally speaking, represent corrupt local factions, some more blatant than others. There is a paucity of candidates that would put the peoples' interest against their own friend-networking. The spectacle of the campaigns, with little content of policy, is only stimulating the economy of island-wide TV stations and advertisers raking in revenue and further drowning out any real democracy in Taiwan. As Paul Simon pointed out about election campaigns in the song "Mrs. Robinson": "Laugh about it, shout about when it's time to choose, any way you look at it, you lose."
The Morning After
Our mayor Lin lost as did the DPP mayors in every city but Tainan and Taoyuan. Mr. Ko won in Taipei over the KMT candidate by the skin of his teeth prompting a re-count. The DPP candidate syphoned many votes that would have helped him win more easily. Ten non-binding referendum brought chaos to the polling places with many voters turning away in confusion; the poll assistants at my wife's location wondered why she was only voting on one; why not all ten? The KMT supported referendum all won, too, with Taiwanese commoners, spurred on by the Christian conservatives, wondering why being gay was such a big issue to the DPP. We know it was a red herring to grab youthful energy away from the main problem: no good-paying jobs. Meanwhile, Taipei Mayor Ko is in a re-count with the KMT candidate, the one who got as many votes as the last KMT loser in 2014, the difference being the votes syphoned off by the DPP loser. There are no lessons to be learned; only cooperation with cultural cohorts to be furthered.