She had her face on TV speaking in English at some U.S. event clearly saying Taiwan supports the pro-democracy protesters in Hong Kong and, by the way, Taiwan is a place with its own government; not the Chinese one. Tsai Ying-wen's DPP is not going to lose the chance to curry favor with the U.S., co-opt the youth of Taiwan again, and win an election to keep Taiwan nation-less.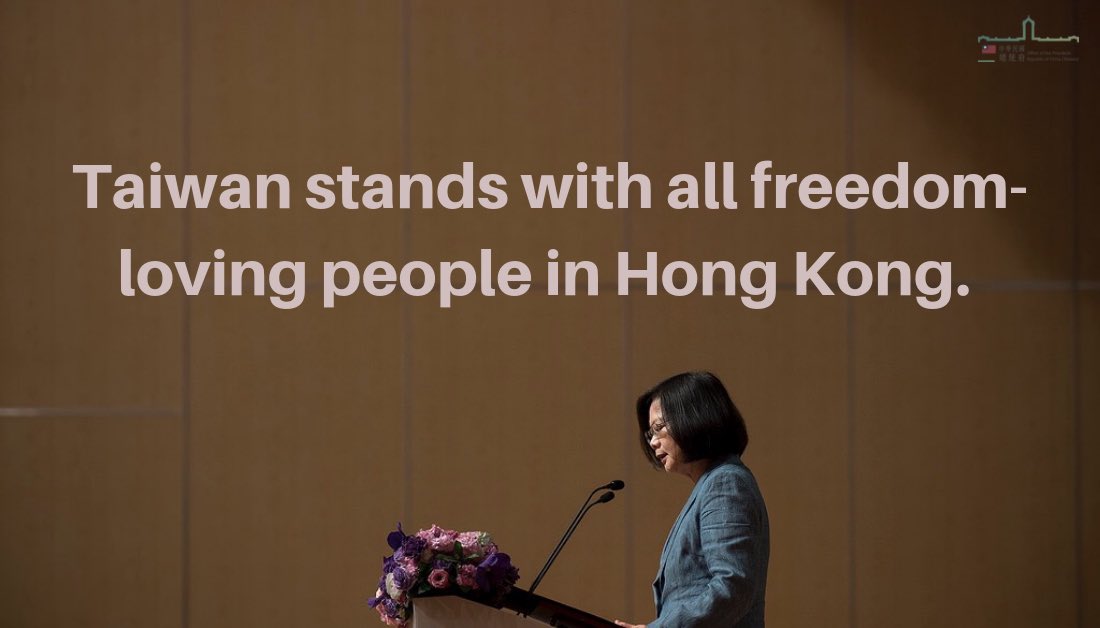 "Taiwan stands behind Hong Kong Pro-democracy protesters,"
says the new banner on
Foreigners in Taiwan
's Facebook page with anti-China propaganda posted below. Pretty soon, we will see demonstrations materialize rallying Taiwan's youthful voters, in lieu of and adhered to a domestic Sunflower Movement, to be manipulated, for the mainstream media DPP to propagate. Let the 28% of immigrants come from Hong Kong, the one's that didn't leave for the U.S. with their stash before the turn of the century, the stragglers; the new exodus of those who can leave. China is coming to Hong Kong, sooner than expected thanks to the opportunity presented them.
Killing the chicken to scare the monkeys is how the DPP
with U.S. controls support for independence or reunification
The Trojan Horse of China - Hong Kong - is now being used to create more distance between China and Taiwan as Taiwan's DPP begins using the chaos to deflect reunification, win the presidential election later this year, and preserve the U.S. overlord; try to encircle China to stunt its growth and deter its ability to defend itself from capitalist imperialism. A parade in Taipei was organized for Sunday, Sept. 29 by DPP sources to show support for the Hong Kong anti-China chaos. Not as many people showed up as they hoped in part because of the rainy wind of a passing typhoon but also because it was not a realistic cause; it was manufactured as was the Sunflower Movement to rally opposition to reunification. In some mostly disused pedestrian underpasses in Taichung and Taipei, 'democracy walls' have propped up and students caught in the whirlwind adding notes and posters showing solidarity with the demonstrators in Hong Kong in another over-the-top effort for the DPP to widen the gap in the upcoming presidential election, this besides the truth that most young adults see the chaos in Hong Kong as a threat to their peaceful Taiwan existence. How much public support exists is a case of the tail wagging the dog.
Passing through the pedestrian underpass of Taiwan Blvd. heading to sushi lunch, I was confronted by ball to wall Post-its and flyers some college students were led to display supporting the 'pro-democracy' demonstrations and riots in Hong Kong. These gullible impressionable youth aren't educated to know the democracy they cherish in Taiwan is a sham; that Taiwan is under the thumb of United States against their best interests of independence or reunification with their cultural cohort. The rift is being widened and they are fodder. What a disgusting walk through the underground so over-the-top with clandestine subterfuge on their lives with no full-time jobs awaiting them after graduation; only further exploitation by small businesses in the wake of the great economic miracle up in smoke. What fools they are. How they will be tossed like leaves in the wind by a Taiwan ruling class only out to preserve its power base, at any cost to its real freedom from imperialism.
Lai Ching-Da really supports independence
but has folded back into the DPP
With Taiwan independence off the table, we have to avoid talking about Hong Kong. I cannot make comments when we watch the propaganda about it on TV without her getting upset, perhaps that I am taking it seriously and getting upset by it. She knows the truth better than I do but she is under the sway of the most "Deep Green" independence supporters, like Lai Ching-Da and the 103 year-old socialist that had given her support before he passed away, that have fallen behind Tsai Ying-Wen's laissez-faire semi-colonial U.S. occupation.
The 70th anniversary of the founding of the People's Republic of China wasn't broadcast in Taiwan. China has done everything they can to keep their communist mission alive, no matter how it detoured; capitalism is what happens to revolutions while they're busy making other plans. Fellow expat carpetbaggers and corrupt politicians, you are the fascist turned neoliberal Republic of China that lost the civil war against the people on the mainland; you are an obstruction to workers' progress. Your circus clowns and peanut gallery make me laugh. Each candidate gets 30 Taiwan Dollars ($1.00 U.S.) per vote after the election, win or lose. It is a good business with meaningless promises, vague references, and a lot of hoopla. The TV news is full of faces and spin doctors. The primary consisted of phone calls made to land lines, of which young people have few, and a flash poll to decide. Actually the decision is made within each party and any primary is a show.
T
his demigod from Kaohsiung using his mayoral victory to run for president
would be a puppet of the KMT the way The Republican Party used Trump.
My Taiwanese wife
talks about Taiwan while watching the news on TV and I counter what she says. She laughs and says the mayor from Kaohsiung said he graduated from Beijing University and criticizes 'deep green' independence leaders that say Tsai Ying-Wen didn't graduate from a reputable school in the U.S.; they do not like her, either, because she abandoned hope.
Let the U.S. have its way dictating their policy to Taiwan; we live here and benefit from their stability, anyway. When young people are scared I know just why. I say the U.S. is trying to destabilize Hong Kong for the purpose of scaring young voters in Taiwan to help Tsai Ying-Wen and keep it this way. I live here and have to go along with it, that's all she wrote. I watched some October 1
parade from Beijing instead of "Dead File" on TV. She watched some Double Ten coverage between innings of a playoff baseball I left on.